HIGHLIGHTS OF THE TOUR PACKAGE
SHINETSU TRAIL 80 km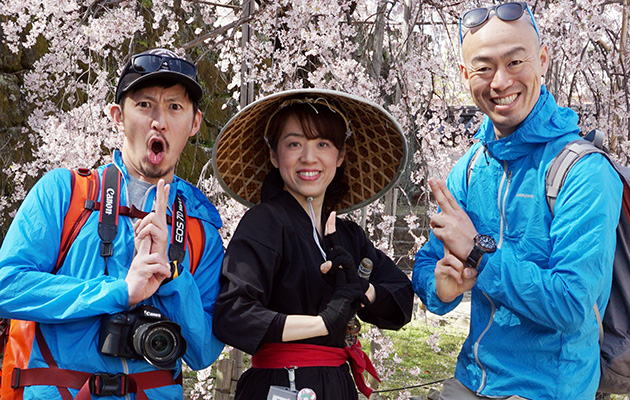 The trail passes through an old-growth forest of majestic beech trees and villages over rolling terrain. It runs through rich wildlife habitat. Wetlands with ponds and lakes are home to some species seen only in Japan.
These include Crested Honey Buzzards, Green Tree Frogs and the Japanese Serow (an antelope-like mammal). In addition Black Bears and many other species can be seen on the trail.
Close
THE FOREST AND FALL COLOURS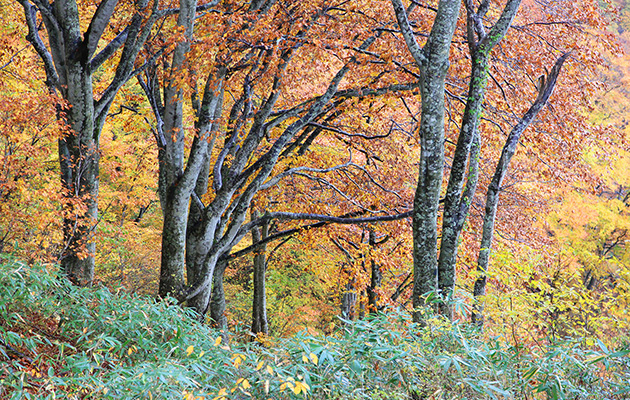 We hike when the Fall colours are at their peak. This is a deciduous forest of Japanese beech, oak, mountain ash and maple to name a few and their Fall colours are amazing.
Close
TOKYO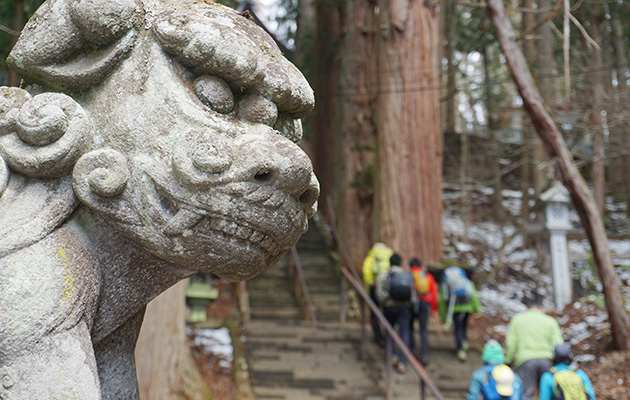 Tokyo is the capital of Japan, the biggest and most developed metropolis in the world. 13 subway lines and over 100 surface railway lines transport more than 10 million people a day!
You will have a little time to immerse yourself in what is the absolute opposite environment (yet still fascinating) to that where we hike.
Close
THE BULLET TRAIN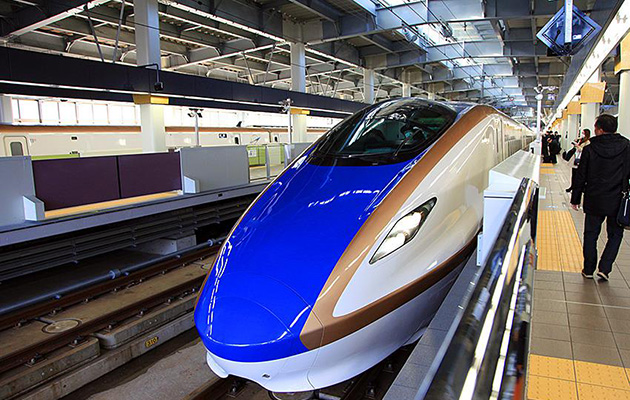 Kickback and relax, enjoy the ride!
Close
MOUNT TAKAO HIKE
( An optional complimentary tour on Day 1)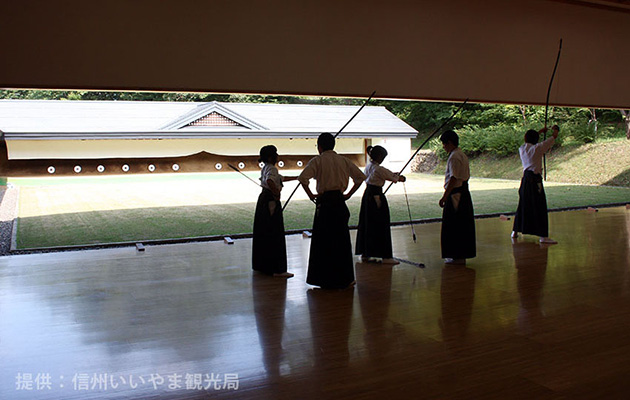 Mount Takao is a sacred mountain and a place of veneration and worship for more than 1000 years. From its summit we can see Mount Fuji on a clear day.
Close
TRADITIONAL JAPANESE CUISINE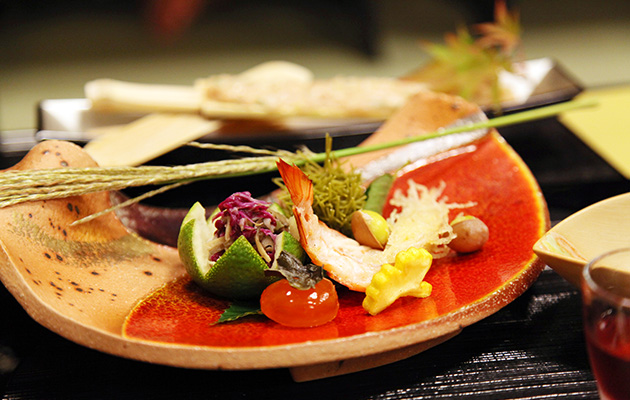 Japan is famous for its cuisine which is reason alone to travel there. We will be eating traditional foods and drinks. We recommend you try the premium "Ginjo Sake".
Close
CLASSY RYOKAN AT NOZAWA-ONSEN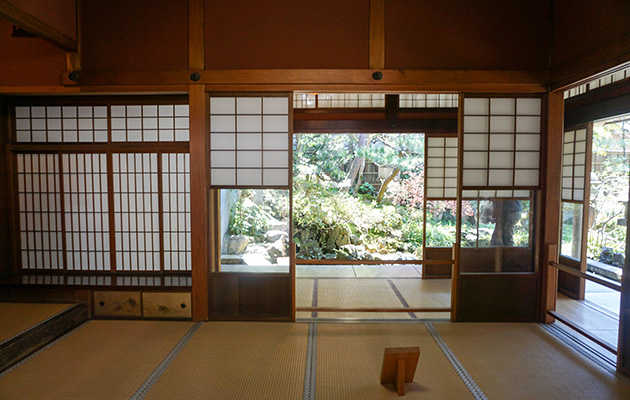 Ryokans are the traditional Japanese inns. "Onsen" is the term for a hot spring though also used to describe the inns and facilities built around the springs. There are thousands throughout the country. We will relax for a day at Nozawa-Onsen where we stay in a very nice classic ryokan.
There'll be lots of time to soak in the springs and to explore this lovely old Olsen village.
Close
WASHI CRAFT EXPERIENCE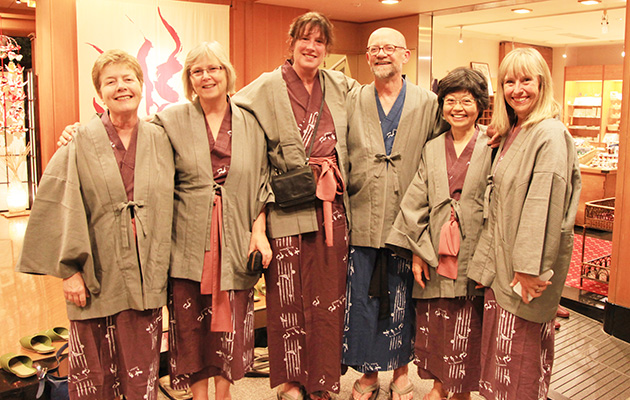 You will have the opportunity to take part in a traditional craft session of Washi making and to learn about local artisan specialities.
Close
TOUR LEADER FLUENT IN ENGLISH AND JAPANESE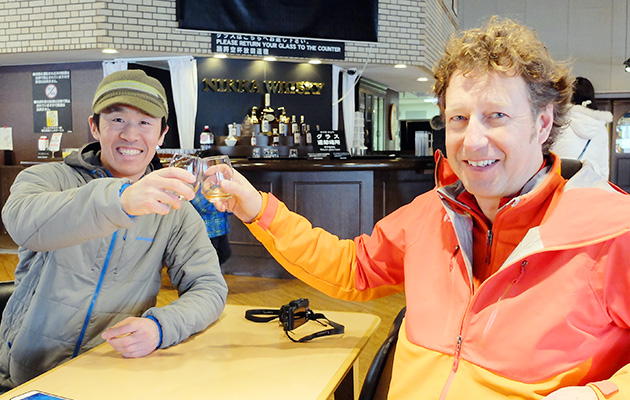 Your tour leader, who is fluent in both English and Japanese, is there to ensure that you achieve the full potential of the trip. This means that it is enjoyable, safe and that you have an open doorway to the Japanese people and their culture.
Close
FOREST CABINS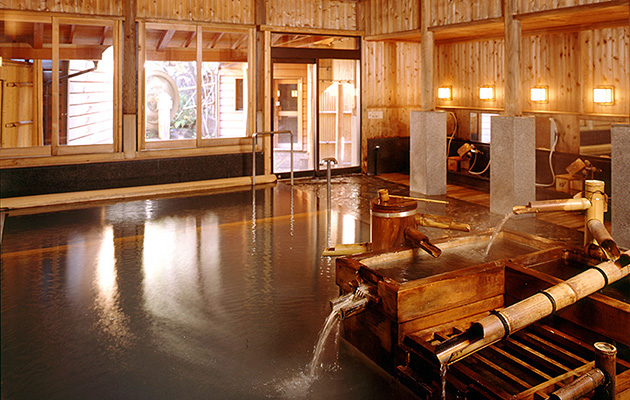 Accommodation, These forest cabins are located at the base of the Shinetsu Trail. We will stay here for 3 nights (Days 3, 8 and 9) making this our headquarters for the hike.
Close
SNOW MONKEYS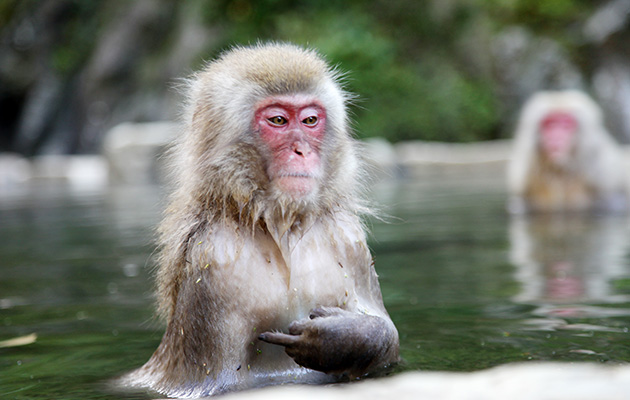 These "must-see" characters will be a highlight of the trip.
Close
ZENKOU-JI TEMPLE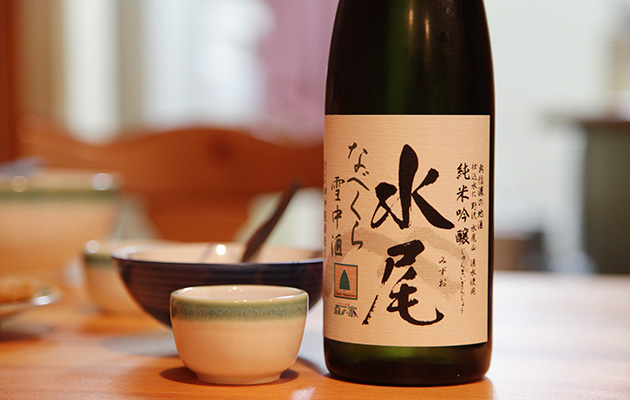 This is one of the finest temples in Japan. We can enter the main chamber to request good fortune and safe travel.
Close
PRICE AND DATES
PRICE

405,700 JPY (Fixed)

$ 4,660.36 CAD // $ 3,616.75 USD


(Conversion price on Nov. 30th, 2017)

Single Supplement Charge $ 470.00 CAD

Please push "Refresh Page" to get current price.

*Due to fluctuations in foreign exchange rates, foreign exchange price is subject to change based on a fixed price without notice. We refer to mid-market rates from currency authority.
INCLUSIONS
INCLUSIONS

Full-time services of your Yamnuska tour leader.
9 nights accommodation. (Single supplement applies)
All breakfasts, five lunches, six evening meals. (indicated by a ✔on the itinerary)
Trail snacks for Shinetsu trail sections.
An optional complimentary tour in Tokyo on Day 1 (Mt.Takao hike)
All tour transportation (Taxi, Bus, Train, Bullet Train) between destinations in Japan, except for transportations during a complimentary tour on Day 1.
5-day local guide service for Shinetsu Trail.
Washi making lesson in the cabin.
Luggage storage at Nagano Station (Day 3).
Private transfer & entrance fee to Jigokudani monkey park in Yudanaka from Nozawa.
Luggage forwarding from lodge to lodge during Shinetsu Trail hike (days 3 - 8).
Entrance fee to all hot springs.

NOT

INCLUDED

Airport arrival & departure assistance.
Airport transfers.
Flights to and from Tokyo,Japan
Alcoholic beverages.
Certain meals indicated on Itinerary by NA (easy options always available).
Optional Tours.
Travel Medical Insurance (Required).
ACCOMMODATION INFO
Single Supplement Charge

If you would prefer a single room when available or you are a single traveller, you will be charged a supplementary charge for certain nights. If you are a single traveller and are willing to share with another traveller of the same gender let us know and we will try to pair you up if possible.

Payment of the Single Supplement Charge does not guarantee a single room booking when staying in accommodations on the nights of Day 3, Day 4, Day 5 & Day 6 due to limited availability in those accommodations.

Single rooms are only guaranteed when we are staying in a hotel in Tokyo (Day 1, Day 9).

No single use available when staying in the cabin on Day 2, Day 7, Day 8 since the cabin only offers shared accommodation (Cabin-Style) where you will share a cabin with other group members of the same gender.

In the event that a single room cannot be provided, Yamnuska Mountain Tours will refund the portion of the Single Supplement Charge relevant to the nights on which a single room cannot be provided to you.

Non-Smoking Policy

Yamnuska Mountain Tours will try to fulfill requests for non-smoking rooms. However Yamnuska Mountain Tours cannot guarantee the availability of non-smoking rooms because some hotels and Japanese inns (Ryokan) do not have non-smoking rooms or such rooms are in very limited supply.
LOGISTICS
Hike Difficulty

It is a Moderate/Difficult hike. A moderate level of fitness is required for the hike. The trail is not technical however there are frequent elevation changes throughout the day. (See Day-by-Day itinerary) You will need to be able to hike in a group over five days, averaging a comfortable 14 kilometers per day with a day-pack for 5 to 7 hours each day.

The majority of the trail is well-maintained and signed and pleasantly cushioned with fallen leaves, which your feet and knees will appreciate.

It can be very slippery and muddy when wet. Hiking poles and hiking boots with good ankle support are strongly recommended. The suitable age for the hike is over the age of 18.

Meeting Place and Time

You will meet your Yamnuska tour leader at our hotel in Tokyo. There will be a tour briefing at 6pm after which we will go out for our welcome dinner at a nearby restaurant.

Getting to Tokyo and Transportation

Upon booking you will receive an information package by email. It will include detailed instructions on how to get to our hotel from the Tokyo (Narita) Airport. If landing at another airport or arriving in Tokyo by rail or other means send us your travel details so we can send you customized instructions.

Guides and Group Size

Yamnuska tour leaders are professional guides certified by the Association of Canadian Mountain Guides (ACMG), they are fluent in both English and Japanese. They have extensive experience in both Japan and in the Canadian Rockies. They have advanced wilderness first aid training and heritage interpretation accreditation. They carry emergency equipment including a group first aid kit and communication tools. A minimum group size is 8 guests.

Booking Policy

Please book as early as practical to avoid disappointment. A $200 CAD non-refundable deposit is required at time of booking. Final payment is due eight weeks before the start of the tour and that amount in Canadian dollars will be calculated using the current official Yen exchange rate. The Canadian Dollar price is subject to change without notice due to fluctuations in the exchange rate for the Japanese Yen.
CLOTHING AND EQUIPMENT
What to Bring

You will need to bring your own daypack and personal clothing (guides carry first aid and emergency gear). Cotton clothing is NOT recommended as an insulating layer as it causes rapid heat loss when wet. Weather conditions can vary from hot to cold, rainy and even snowy meaning you need to be equipped appropriately. It also can be very slippery when wet, due to many tree roots and muddy terrain. We highly recommend that you wear hiking boots which provide firm ankle support. Walking poles are highly recommended and available for rent.
Please see links below for more details